15 May 2009
Suzuki to launch Ritz premium compact car in India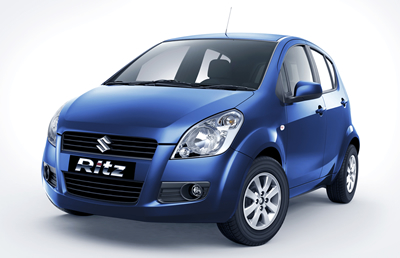 On 15 May 2009, Suzuki Motor Corporation's Indian subsidiary, Maruti Suzuki India, announced the forthcoming launch of the Ritz, a premium compact car that's a strong response to still-expanding passenger-car demand in the Indian market.
The Ritz has a tall but manageably compact body and a choice of two engines: Suzuki's new K12M 1.2-litre petrol engine and the 1.3-litre DDiS diesel engine that has earned a great reputation in the Swift. Joining the Swift, SX4, and A-Star as a Suzuki world strategic model produced and sold by Maruti Suzuki India, it meets growing Indian demand for fuel-efficient, eco-friendly transportation and will likely be most popular with families. Maruti Suzuki India is producing the Ritz at its Gurgaon plant and will start offering it for sale later this month.
The new K12M engine in the Ritz is the second model in the K-series, which Suzuki began with the K10B engine that powers the A-Star. With low fuel consumption and low CO2 emissions, it offers excellent environmental performance. Indeed, the Ritz will be the first passenger car sold in India to comply with the country's BS-IV emission standard, which comes into force in April 2010.
In other markets, the Ritz is known as the Splash. Suzuki's Hungarian subsidiary, Magyar Suzuki, has been producing the Splash (Suzuki's fourth world strategic model) and offering it through Suzuki's European dealer network since December 2007. Also, Suzuki has, since October 2008, been selling the Hungarian-produced Splash in Japan, where its brisk performance and superior roominess and user-friendliness have made it a popular addition to the Suzuki compact-car lineup.