27 November 2008
Suzuki Launches New Alto Lapin Minivehicle in Japan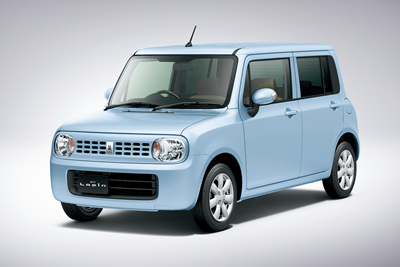 Suzuki Motor Corporation is pleased to announce the Japanese domestic launch of the new Alto Lapin, a minivehicle that combines a distinctive design with outstanding fuel economy. The new Alto Lapin is only available in Japan and sales began on 26 November.
The Alto Lapin is based on a concept of creating a minivehicle that engenders the same kind of emotional attachment as a favourite fashion accessory or ornament. Since its appearance in its original form in January 2002, it has been especially popular with young women who are choosy about the things they buy and use.
In developing the new Alto Lapin, Suzuki remained faithful to the attributes that have made the original Alto Lapin so popular but, at the same time, worked in line with a "good design plus good driving" theme to combine distinctive looks and great fuel economy (24.5km/L* with 2WD and CVT) with a relaxing cabin and a comfortable ride in a great new way.
Suzuki targets domestic monthly sales of more than 4,000 units.
*measured in Japan's 10-15-mode cycle and verified by the Ministry of Land, Infrastructure, Transport and Tourism