January 29 2007
Suzuki sponsors FIS Nordic World Ski Championships Sapporo 2007
Suzuki Motor Corporation will sponsor FIS Nordic World Ski Championships that will be held in Sapporo, Japan from February 2007.

The Nordic World Ski Championships have been held every two years by "International Ski Federation" (FIS - Headquarter: Switzerland), competing in technique and speed by the top skiers who have won the preliminary competitions in their countries. This Sapporo Championship is the first one ever holding in Asia, and world first to organize some competitions in indoor stadium (Sapporo Dome).

Suzuki will support this championship as a main sponsor and provide the total of 50 units of "Grand Vitara" (Japan name: Escudo) and "SX4".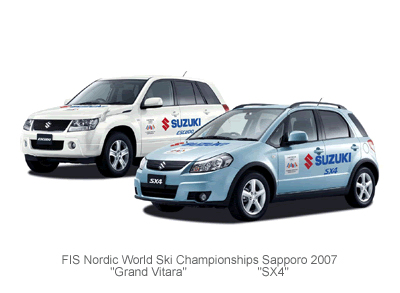 There are mainly three events in Nordic Ski:
"Ski Jumping" - Compete the flying distance and the flying form.
"Cross Country" - Compete the time of skiing up-down hills.
"Nordic Combined" - Combined competition of above two.
Competition Outline
Organising Body: International Ski Federation (FIS)
Governing Bodies: Ski Association of Japan, City of Sapporo
Period: 22nd of February - 4th of March, 2007 (11 days)
Host City: City of Sapporo, Hokkaido
Number of Participating Countries: approx. 40 (tentative)
Events: Ski Jumping (3 events)
Cross Country (12 events)
Nordic Combined (3 events)