February 09 2006
Outline of Suzuki's exhibition in the 76th Geneva International Motor Show
Suzuki Motor Corporation will exhibit the following models in the 76th Geneva International Motor Show, which will be held from 28th February to 12th March 2006*.
*
Press days
28th February to 1st March
Public days
2nd March to 12th March
Exhibited vehicles
Mass production vehicles
| | |
| --- | --- |
| | -SX4 (Will be launched in March 2006 in Europe, produced in Magyar Suzuki Corporation.) |
| | -Swift |
| | -Grand Vitara 3D/5D |

Reference Exhibition
| | |
| --- | --- |
| | -SX4 WRC Concept (A prototype, SX4 as a base model) |
| | -Swift Super 1600 (Race Model) |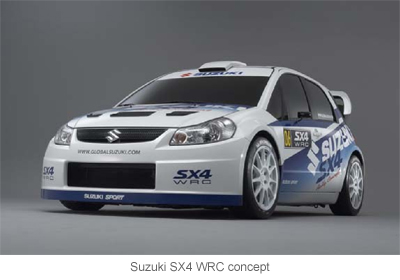 Outline of each vehicle
SX4
It is Suzuki's 3rd world-strategic-model which was unveiled in December 2005. This Sport X (cross)-over Car is developed on collaboration basis with Fiat.
Under a development concept of "X-over Revolution", the DNA of Suzuki's compact cars was complemented by a crossing of its innovations in sporty compacts which were advanced with Swift and the SUV tradition which Suzuki has had such as with Grand Vitara.

The 76th Geneva International Motor Show is the 1st occasion in which the vehicle itself is exhibited. The off-road tasted "Outdoor Line" and urban tasted "Urban Line" will be displayed.
Suzuki SX4 WRC Concept
Suzuki SX4 WRC Concept is a prototype which is converted from the "SX4" into a race spec car.