January 13 2006
Suzuki announces the start of sales of motorcycles in India
Suzuki's Indian motorcycles manufacturing/distribution subsidiary, Suzuki Motorcycle India completed the construction of a new manufacturing plant near Delhi, the northern India, and it announced new models in a press conference on January 13th aiming at its start of sales in the beginning of March.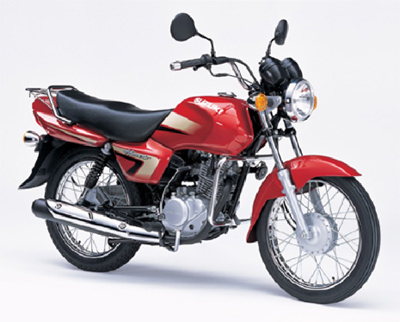 Suzuki had been operating motorcycle business on the joint-venture basis with a local manufacturer in India in the past, and after the parting with them, Suzuki stepped into the establishment of its own assembly plant.

The production numbers of motorcycles in India reached as high as over 6,300,000 units (120% comparing with the previous year) in 2004, which is the 2nd largest production figure in the world after China. It is further expected to increase along with the Indian economic growth.

Suzuki has held a press conference today on 13th January, presenting new motorcycles GT125 series and announced the sales plan of 100,000 units for the year 2006 in Indian domestic market.
Outline of Suzuki Motorcycle India
| | |
| --- | --- |
| Company Name | SUZUKI MOTORCYCLE INDIA PVT.LTD. |
| Located in | New Delhi, India (Assembly Plant: Haryana, Gurgaon) |
| Site Area | 150,000m2 |
| Capital | Rs.713,430,000 (Approx.US$15,650,000), Suzuki's share: 74% |
| Representative | Mr. Katsumi Takata |
| Products | GT125(Standard version), GT125X, GT125XU |
| Production Capacity | 100,000 units/year |